Sandra's knowledge and experience in the fitness and bodybuilding field surpasses anyone I have known. I have known Sandra for more than 25 years and recently I asked her to take me from my present fitness level to doing my first BB competition in 25 years, in which I placed 2nd.
Last year I visited Sandra in San Diego and got to spend time with her and learn even more about nutrition and workout techniques. She corrected the way I walked, my shoulders, my back and the way I lifted. The knowledge I took away from those few days I apply every day in and out of the gym.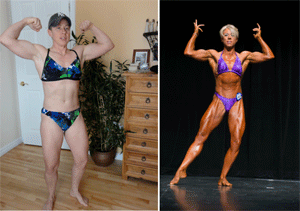 Sandra not only coaches the body but believes in the spirit and mind as well. The synergy between those three elements determines the level of fitness you want to achieve and Sandra is the one to get you there. Sandra can help you achieve whatever your goal may be. I'm living proof that someone with Ankylosing Spondylitis, when given the right nutrition, the best coaching advice, be dedicated to a goal, and the will to make a dream come true. No one comes close to the level of knowledge and experience in the fitness world.
If you have not talked to Sandra or attended one of her seminars, I would highly recommend that you do. You owe it to yourself to bring yourself to a new level, whether it is a personal or professional; Sandra is the key to success.
Thank you Sandra for all that you have shown me and given me in the last year, I could not have made it to the level that I am now. You have given me the tools to move forward and to maintain my present shape, to eat healthy and wisely and to feel that I am worth more than I had given myself.
[client_name]Sue Ross[/client_name]