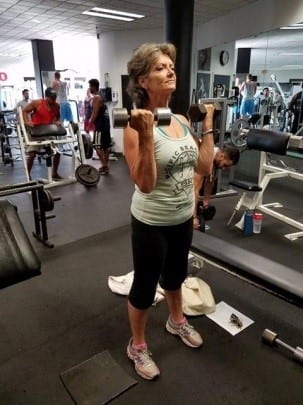 Are you new to working out? Kickstart your fitness with our introductory program!
All of our programs are personalized, however, as a newcomer to the world of fitness, we focus on stabilization, during the early sessions. A strong core makes for a solid foundation for more intense workouts, later in your program.
You will learn proper posture, technique and range of motion so you move efficiently and remain injury-free, as you progress. We perform movement assessments, at the beginning, to see how you move and whether we need to address any muscular imbalances to keep you safe. Other fitness test can include: body composition, BMI, girth measurements, resting heart rate & blood pressure.
The FOF Resistance Training programs usually involve working all the major muscle groups in each workout. The repetitions are often in a 12-20 range, with moderate weight. The weights increase over the first 4-6 weeks, in a gradual way, so you maintain good exercise technique. We recommend 2-3 days, per week, to start.
We can also incorporate reactive training, balance and SAQ (speed, agility, quickness) training if these components of fitness support your goal.
The FOF Cardiovascular programs are mostly aerobic, in the beginning. The kind of cardio you do will be flexible in terms of mode (brisk walking, jogging, treadmill, elliptical or stationary bike). The ACSM recommends a minimum of 150 minutes of aerobic activity, each week, for general cardiovascular health. The intensity will vary from person to person, based on level of conditioning. Depending on goal, this amount can increase, over the first 4-6 weeks.
The FOF Nutrition programs focus on improving your food choices, overall. We promote "Foods from Mother Nature" and encourage no or minimal processed and refined foods. We teach portion control and encourage our clients to make healthy lifestyle changes, instead of promoting unsustainable diets. Our "Foods from Mother Nature" philosophy is to ensure that you consume a nutrient-dense diet, as a lifestyle. We offer dietary programs that enhance athletic performance, weight loss, and increases in lean muscle mass. If you have issues with high blood pressure, high cholesterol, or issues keeping your blood sugar and energy stable, we can help.