It's Time To Get Fit
Customized fitness program just for you – now is the time to get started on the new you!
Our coaching program includes an amazing nutrition plan, fitness program and support system, designed to get you fit and healthy!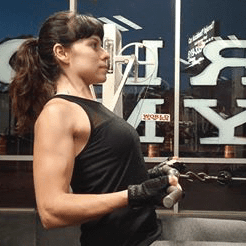 Want to stay fit and maintain a long-term healthy lifestyle? Try our lifestyle fitness program!
How it Works
My home base and office is at The Gym in San Diego. Many of my clients choose to train with me there. It has all the equipment one would need and it has been my home gym for a long time. It is a motivation place for my fitness program.
That being said, it is not for everybody. In addition to The Gym, I work with clients in the following places:
Outdoor training areas (like De Anza Cove)
Home or housing complex gyms
Office building fitness centers
Membership gyms where outside trainers are permitted

Fixed my bad habits
I have worked out regularly for years, taken group classes and even had some training. After spending time in the gym and training for Aerial Trapeze and Handstands I had developed a few bad habits trained specific areas an muscles...

New Ways of Staying Healthy
I would like to write and express my sincere appreciation for "Freedom of Fitness" at Pacific Beach, California. After having two kids and going back to school for my Bachelor my weight totally changed. I hated the way I looked...

A Positive Influence on Me and My Fitness Routine
Sandra Blackie and Freedom of Fitness are the BEST. Sandra has been providing personal training services to me for more than ten years. During that time she has been a positive influence on me and my fitness routine. She has a...

Most Knowledgeable
I've been a client of Sandra's for over 10yrs. I met Sandra when I lived in San Diego but moved and continued working with her via phone consults. She is the most knowledgeable person I know in the health/fitness industry....

At My Wits End with Yo-Yo Diets
Sandra is wonderful! She has taught me so much about fitness and nutrition. I was at my wits end with the yo-yo diets and inconsistent gym routines. Sandra put it all together in a comprehensive easy to understand way that...

I've Never Looked or Felt Better
Thank you so much! I certainly will eat my carbs! I'm so excited for my next 30 days!!! I will be 44 on the 16th and I've never felt or looked better than I do right now! I feel SO...

Sandra Coaches the Body, Spirit and Mind
Sandra's knowledge and experience in the fitness and bodybuilding field surpasses anyone I have known. I have known Sandra for more than 25 years and recently I asked her to take me from my present fitness level to doing my...