Nutrition & Dietary Programs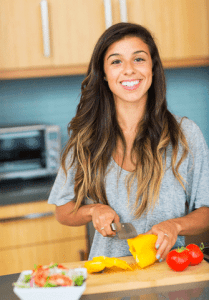 Are you looking to lose weight and keep it off? Would you like to change your body composition and burn calories at a faster pace? Do you want to feel more energized?  Are you getting ready for an athletic event, like a physique show or 5K race? Sandra can create a personalized diet, just for you!
Sandra Blackie, Certified Sports Nutritionist and retired IFBB Professional Bodybuilder, offers personalized dietary programs, nutrition & exercise packages, and half-hour or one-hour nutrition consultations.
Whether you are a student, homemaker, business owner, or competitive athlete, she can create a sensible nutrition program that will help you reach your personal, health and fitness goals.
Sandra will show you what healthy foods to eat, help you create healthy menus, provide you with your macro nutrient breakdown, and suggest practical tips that will help you stay consistent with the program!
She makes herself available for phone, text and email support, throughout the duration of your program. Follow-ups sessions are encouraged for accountability, charting progress, dealing with challenges & obstacles, and for education.
With all of the infomercials, fad diets, and gym myth-information out there, it is no wonder people reach for the "Quick Fix" solutions, only to fail, long term.
We offer an educational approach to healthy weight management and all nutrition goals. Anyone with a desire to learn can achieve success, even if you have tried all the other diets out there!
Our motto, at Freedom of Fitness, is, "It's a lifestyle, not a life sentence!"  We want our clients to enjoy their lifestyle changes, feel good and live in the results they've created!  We encourage a combination of good solid nutrition, exercise, and supplementation that supports your goals.
CONTACT SANDRA TODAY FOR YOUR FREE 30-MINUTE CONSULTATION!
Email: sandra@freedomoffitness.com
Phone: 619-977-5779